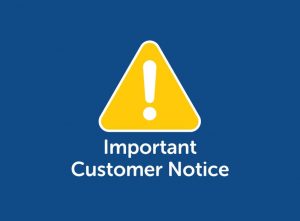 March 17, 2020
We invoked a high priority response by closing the office to customers, however, our main focus remains on providing our customers with safe and reliable energy, while ensuring the safety and well-being of both our employees and our customers.
With the growing concern and uncertainty surrounding the COVID-19 virus, Welland Hydro-Electric System Corp. (Welland Hydro) understands what a difficult and stressful time this is for everyone and we are taking proactive measures to support our customers.
Welland Hydro is committed to ensuring that no one is disconnected for non-payment during this uncertain time and we are suspending any disconnections for three (3) months following the end of the established Winter Disconnection Ban moratorium. As a result, the disconnection ban period has been extended until July 31, 2020 and will continue to be monitored. We are putting our customers first and are working with them by arranging flexible payment arrangements, including the Arrears Payment Plan in order to allow customers more time to pay outstanding balances on their accounts, Equal Payment Plans, as well as providing information on financial assistance programs, including the Low-Income Energy Assistance Program (LEAP) and the Ontario Electricity Support Program (OESP).
The Affordability Fund is also available to assist by providing eligible customers with free energy saving measures to improve their home's energy efficiency and which can lower consumption.
Applicants can apply for LEAP through the Hope Centre. Please call to book an appointment.
The Hope Centre – 570 King St, Welland – 905-788-0744
If you are experiencing any difficulty in paying your bill, and have been impacted by this pandemic, please stay in touch with us. Although the office is currently closed to the public, we are still operating as usual. You can contact our Customer Service Team during our regular business hours by phone at 905-732-1381 (select option 6 to speak to a Representative), via email at csr@wellandhydro.com, or using the live chat feature off of our website at www.wellandhydro.com.
---