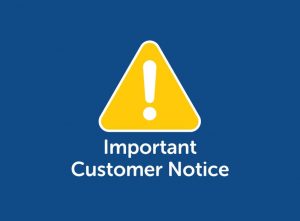 March 16, 2020
Welland Hydro has been closely monitoring the Coronavirus (COVID-19) outbreak and continues to observe Health Canada's recommendations. Our first priority is the continued safety of our employees and our customers. Public health officials continue to advise that social distancing is the most effective strategy to prevent the spread of COVID-19. As such, Welland Hydro's office at 950 East Main Street, Welland will be closed to all outside visitors including walk-in customers until further notice.
Should you need to contact us, please email customer service at csr@wellandhydro.com and one of our representatives will be in touch as soon as possible. You may also call the Customer Service Team at 905-732-1381 and select option 6. Additionally, you can chat directly with a Customer Service Representative during our regular business hours, using the live chat feature located on our our website at www.wellandhydro.com.
For outage reporting please call (905) 732-1381 and select option 1.
We appreciate your support and understanding of this decision.
---