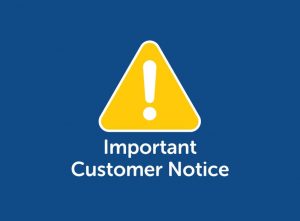 June 1, 2020
Welland Hydro understands what a difficult and stressful time this is for everyone. Please be assured that we are here, we are listening and we are prepared to help during this time. If you are experiencing difficulty in paying your bill and have been impacted by this pandemic, let us know and we will work on a solution with you.
Customers may contact our office by phone at 905-732-1381, option 6 for Customer Service, via email at [email protected], or using our live chat feature during regular business hours at www.wellandhydro.com.
Frequently Asked Questions During the COVID-19 Crisis:
What do I do if my power goes out?
Welland Hydro remains committed to delivering reliable electricity during this time. Our linemen will remain active and will respond to any outage or power interruption that may occur. We want to ensure our customers are connected and have power when they need it most. If your power does go out, please notify us by phone at 905-732-1381 or online using our Report an Outage form.
Will there be any changes to electricity rates to help me pay my bills?
Yes, the Provincial government announced temporary emergency relief to support Ontarians impacted by the global COVID-19 outbreak. As of March 24, 2020, households, farms and small business who pay Time-of-Use electricity rates will pay the lowest rate or off-peak rate (10.1 cents/kWh) 24 hours a day, seven days a week until May 31, 2020. Customers may initially see six different rate line items on their electricity invoices. There will be peak, mid-peak and off-peak rates for usage prior to March 24, 2020 and peak, mid-peak and off-peak rates for usage on or after March 24, 2020. Please note that the peak, mid-peak and off-peak rates for consumption on, or after March 24, 2020, will be set to 10.1 cents/kWh until May 31, 2020.
Effective June 1, 2020, customers who pay time-of-use electricity rates will be billed at 12.8 cents/kwh, the average cost, instead of the 10.1 cents/kwh. The new rate will be effective June 1, 2020, 24 hours a day, 7 days per week until October 31, 2020.
Will my power be disconnected if I can't make payments right now?
On March 19, 2020, the Ontario Energy Board (OEB) announced that effective immediately the Provincial winter disconnection ban for residential customers, which was scheduled to end on April 30, 2020, will be extended by an additional three months until July 31, 2020. The OEB is also extending the disconnection ban to include all other low-volume customers, such as small business customers for reason of non-payment. Welland Hydro encourages all customers who are having difficulty paying their bills to stay in contact us.
Are there programs available to me to help me pay my bill?
Yes. There are a number of programs available to customers having difficulty paying their bills.
Will I still receive a bill from Welland Hydro?
Yes, Welland Hydro will be continuing with our regular billing cycle. You will receive a bill either through mail or electronically, whichever your account is set to as your preferred method. If you have any questions or concerns about your bill, or making payments against it, please do not hesitate to contact our office.
How can I sign up for e-billing?
Welland Hydro's online portal, Customer Connect, allows customers to view current and past bills, opt into e-billing and manage electricity consumption by viewing usage data, hour by hour, for any given day.
Is Welland Hydro reducing services during the COVID – 19 pandemic?
No, Welland Hydro will still be working in the field to complete requests while ensuring the safety and well-being of our employees and our customers. If you have any questions about a request, please contact our office.
If I am moving, do I still notify Welland Hydro?
Yes, you still need to notify Welland Hydro if you plan on moving. Please provide us with as much notice as possible so we can work with you to ensure all required actions are completed in order to open and/or close your account.
How can I stay up to date with what Welland Hydro is doing?
Any new updates or information that Welland Hydro becomes aware of will up updated on our website at www.wellandhydro.com, shared as news releases and posted on Twitter and Facebook.
Is there relief for the Global Adjustment Charge?
Ontario is also deferring a portion of Global Adjustment (GA) charges for industrial and commercial electricity customers that do not participate in the Regulated Price Plan (RPP), starting April 2020. The GA for smaller industrial and commercial consumers (ex. Class B) has been set at $115 per megawatt-hour, which is roughly in line with March 2020 value. Large industrial and commercial consumers (ex. Class A) will receive the same percentage reduction in GA Charges as Class B. The government intends to keep this relief in place through the end of June 2020, subject to necessary extensions and approvals to implement this initiative. Industrial and Commercial electricity consumers will automatically see this relief on their bills. Consumers who have already received their April bill should see an adjustment on a future bill.
---