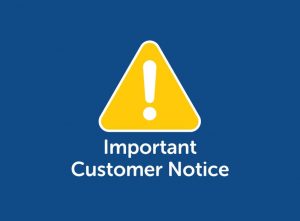 January 9, 2017
Beginning January 1, 2017, residential customers are eligible for an 8% Provincial Rebate on their electricity bill. The rebate is equal to the provincial portion of the Harmonized Sales Tax (HST).
It will start to appear on bills that include consumption after January 1, 2017. The rebate does not have an expiry date.
Business, institutional and industrial customers may qualify for the 8% Provincial Rebate. Businesses with a demand of less than 50 kilowatts automatically qualify.
If you previously provided Welland Hydro-Electric System Corp. with a self-declaration form to be exempted from the Debt Retirement Charge (DRC) or to receive the Ontario Clean Energy Benefit (OCEB), you will automatically be enrolled to receive this rebate.
If your status has changed, however, since you provided those forms, you must notify Welland Hydro-Electric System Corp. of that change as it may affect your eligibility to receive the 8% rebate.
If you did not qualify for previous exceptions or credits, you may still be eligible to receive the rebate if:
Your average monthly demand for electricity is 50 kilowatts or less;
Your annual consumption is 250,000 kilowatt hours of electricity or less;
You carry on a business that is a farming business for the purpose of the Farm Registration and Farm Organizations Funding Act, 1993, and you hold a valid registration number assigned under that Act or your obligation to file a farming business registration form was waived pursuant to an order made under subsection 22 (6) of that Act
Your account relates to one of the following:

a dwelling, or
a property, within the meaning of the Condominium Act, 1998, or
a residential complex, within the meaning of subsection 2 (1) of the Residential Tenancies Act, 2006, without regard to section 5 of that Act, or a property that includes one or more housing units and that is owned or leased by a co-operative within the meaning of the Co-operative Corporations Act.
If you own a multi-residential building (s) that does not have individually metered units, such as some apartment buildings or condominiums, your account may also be eligible. You can self-declare your eligibility by filling out a self-declaration package.
Eligibility to receive the rebate is defined under the Ontario Rebate for Electricity Consumers Act, 2016.
---